CUSTOMER-CENTRIC SOLUTION PROCESS

The only way a speaker or workshop is going to benefit your business is if it's tailored to address your specific situation.
We understand the importance of getting to know your company and staff, and meeting your challenges specifically and head-on.
That's why we always begin with fact-finding exercises, discovering the unique make-up of your company – your corporate DNA. We use this DNA to build tailored programs that provide relevant solutions, just for you.
We're proud to say that we are one of a handful of consultancies that take this careful approach. For you, it means a successful program and guaranteed ROI.
Once your singular program is developed, we use our 4-Step Customer-Centric Solution Process. We use speaking, workshops, and coaching, and your needs determine the presentation vehicle.
During the program we ensure participants absorb information by using engaging multimedia presentations, role-play, case studies, and instructional videos. Dynamic and inspiring, these tools use carefully chosen graphics, exercises, and actors to create real-life vignettes that help you and your staff understand and practice new skill sets.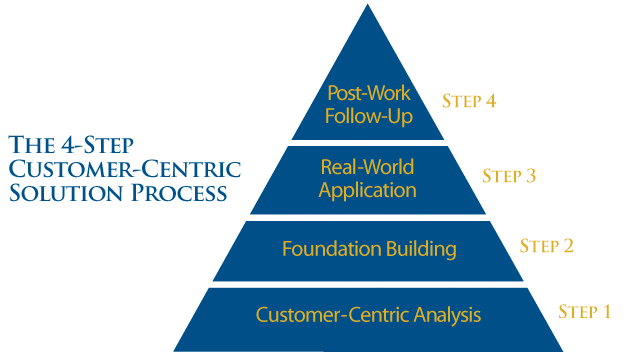 Our Reputation Speaks for Itself
"Best workshop ever! Best ROI. Real Solutions that can be input quickly and easily. Discussion was carried outside the training center to the car, hotel, restaurant and encompassed the entire stay. Spurred discussion, analysis and excitement for all. Have everyone go through this workshop and train at all levels. Must be a 2 to 2 ½ day workshop to allow for absorbtion and understanding."
Brad Plein
Territory Manager
Nutro Pet Products