THE REACH OUT APPROACH WORKSHOP SERIES

The 21st Century has ushered in unprecedented change and challenges for organizations. Changes in technology and market conditions, restructuring, downsizing, and unrelenting competition mean companies need to seek out solutions that will not just help them survive these tumultuous times, but thrive in them. Herein lies your opportunity: Embrace these changes and benefit from them.
We believe companies that thrive are in the people business. By reenergizing employees to communicate effectively, approach their jobs differently, think creatively, and provide meaningful solutions, people-focused companies create a powerful competitive advantage that sets the stage for exponential revenue and profit growth.
To help our clients take advantage of this opportunity to thrive, we recommend a cross-departmental training series that positively impacts all facets of your business: the The Reach Out Approach Workshop Series. Its 10 modules are designed to work independently or together to meet your business' unique needs. Choose all 10 modules for comprehensive positive change, or pick just the modules that address areas you need energized. Either way, your team will receive training that's both practical and creative – training that makes a positive impact from Day One.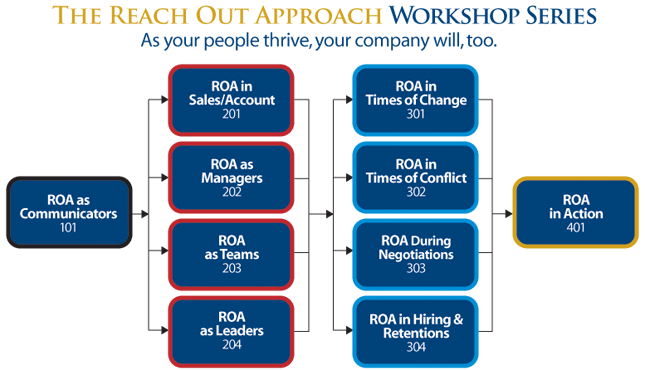 The Reach Out Approach Workshop Descriptions:
Workshop Facts
Each workshop includes 2 components. A practical portion teaches no-nonsense strategies attendees can immediately use; creative exercises have attendees apply what they've learned in application sessions that handle realistic, specific scenarios they might encounter in their jobs.

Our "Q and A" format keeps attendees energized and engaged; audio-visual tools, assessments, and quick reference guides cement concepts in attendees' minds.

To help participants better understand themselves and their co-workers, workshops include behavioral assessments such as EQ, 360 Feedback, and DISC.

Group and/or individual assessment reports and post-workshop assignments are included at the end of each session; ROI calculations are also available.

Workshops are for any size group – from individuals to entire organizations – but workshops of 10-20 participants create maximum interaction and participation.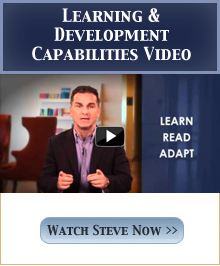 "The workshop was excellent in the factors. (A) It is an area of development that all my managers felt they needed training. (B) It is a gateway towards other areas of development. (C) This training improves on the number one pressure point in our sales management system – relationships between sales personnel and supervisor. My group has expressed such optimism over this content that a follow-up workshop should be in the planning stage."
Jack Zubritsky
Regional Sales VP
Nutro Pet Products
"Steve's positive passion for the workshop material, his knowledge and understanding of our business and the roles we each have made a huge difference. Steve truly stands out as an example of a great coach for our entire team."
Larry Faskowitz
East Region Zone Manager
Eastman Kodak