THE REACH OUT APPROACH NEWSLETTER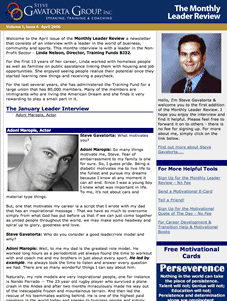 Get Leader Insights - Monthly!
Sign up for a free Monthly The Reach Out Approach Newsletter. You'll learn key insights from leaders in all professions – Corporate Executives, Entertainers, Entrepreneurs, Athletes and more…find out their philosophies on leadership, how they learned to become leaders, what they read and how they lead others. You'll like them so much you'll send to friends, family members and/or colleagues!

You can sign up for a Monthly The Reach Out Approach newsletter which will be delivered via email to you at the beginning of each month. Best of all, it's FREE!
---
Archives